Our most bizarre perfume project so far
Posted on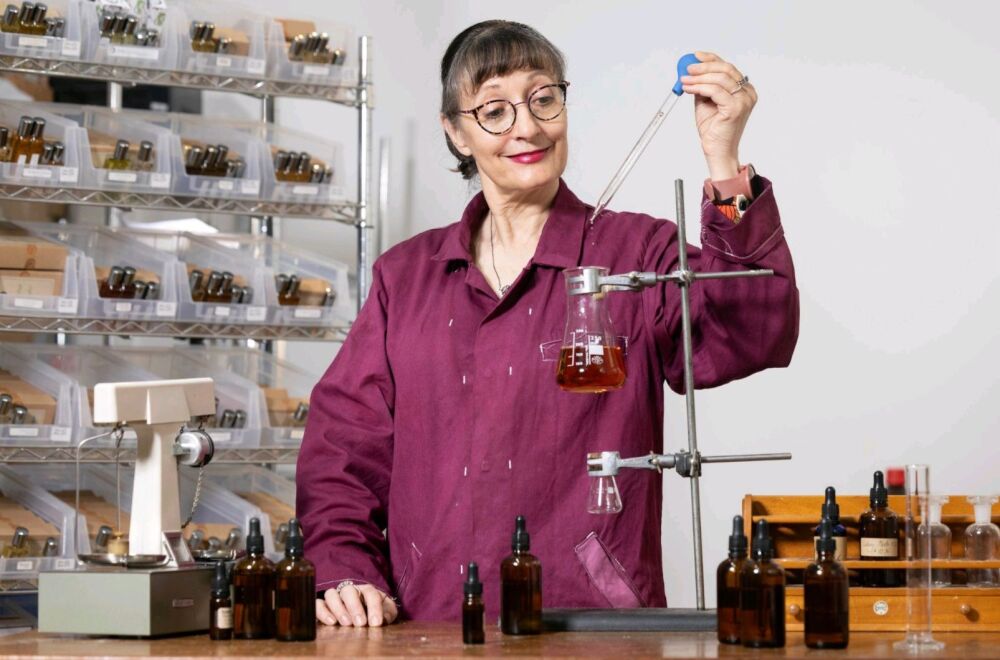 Over the last four months we've had the most bonkers project in the history of 4160Tuesdays, making four car fragrances for Dacia, the Romanian car company with a sense of humour.
Here is the whole story on the Dacia website. It's really worth watching the spoof commercial.
Anyway, two weeks ago they sent over three top notch press photographers; they entirely rearranged the studio and asked me look alternately serious and smiley, and somewhere in between, like this one, which is my favourite. Me looking baffled, with a 1950s analogue balance on the left (which I keep ready for the apocalypse) dropping Silk, Lace & Chocolate Eau de Parfum over and over into the same flask. Also, they hadn't told me I was going to be in the photographs which was just as well, or I might have worried in advance.
I was sworn to secrecy, so I could only hint about what we were up to; in fact I had to make four fragrances to scent printed pieces of board the size and shape of your average beer mat but not as absorbent, then devise a formula that would stay in place. Then we had to apply it to 4 x 1000 of them. Currently the studio pretty much smells of Calone, thyme and cheese and I'm going to have to replace the table coverings.
But not to worry, I ended up in the Shropshire Star, so there's one more life goal achieved!
Now I am back in the lab doing normal perfume things again, but creating The Jurassic Coast with fossils and ice cream, The Highland 500 with haggis, the Coastal Path with seaweed, or the Cheddar Gorge with cheese was an adventure.
I would like to say that this is not the normal life or an indie perfumer, but I have started to redefine normal.