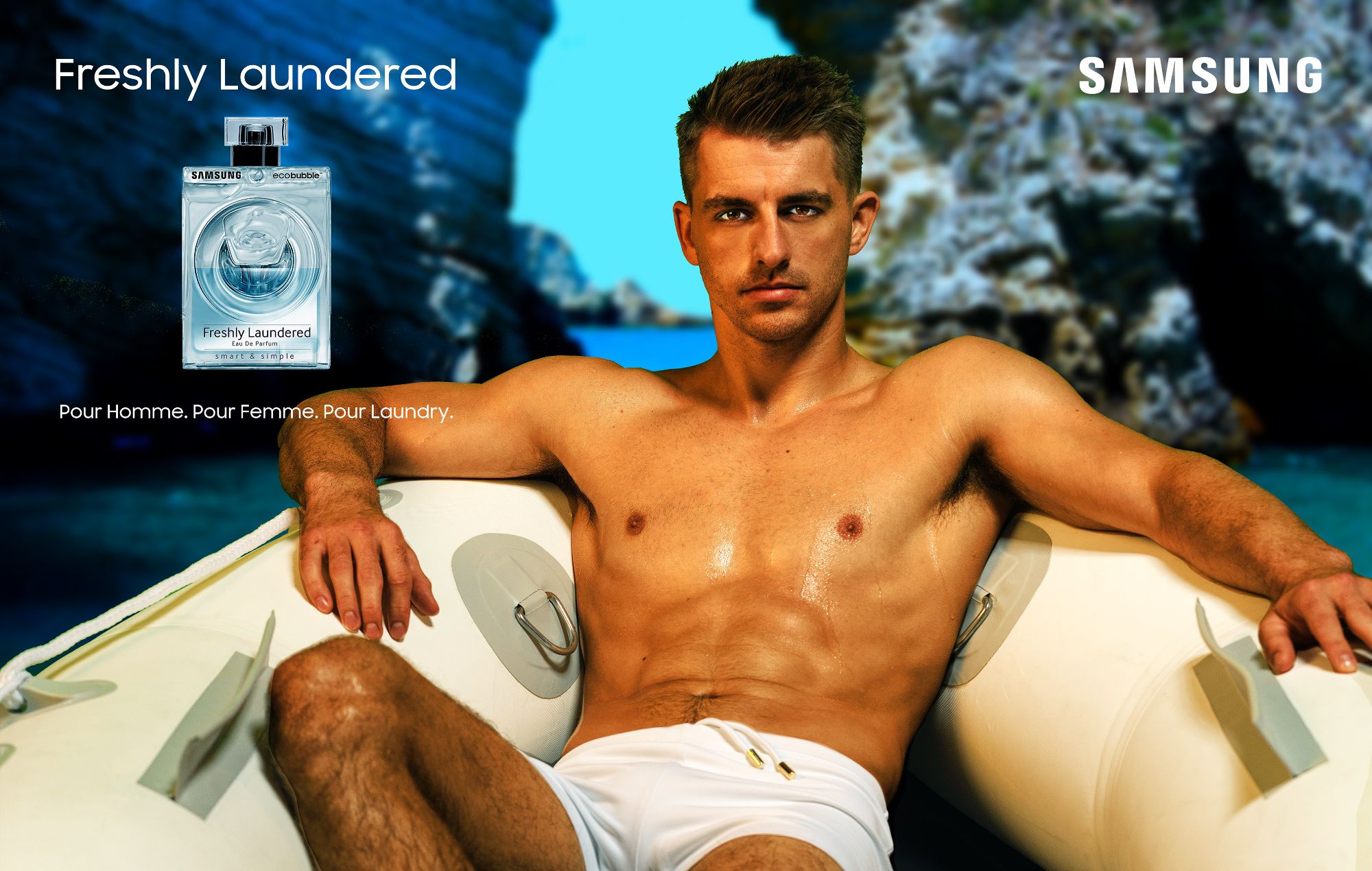 On the left (far left) you'll see a bottle of Freshly Laudered, a fragrance we made in 2020 for Samsung, and featured in the excellent spoof ads for their EcoBubble washing machine, starring Olympic gold medal gymnast Max Whitlock.
We created the perfume, carried out the regulatory work, advised on packaging and delivered the first 100 bottles in September ready for the November launch.
As a very small company, we rarely do this, but we're open to enquiries.
If you're interested in working with us, it's best to be familiar with the kind of fragrances we make to be sure we're the right people for you, and to consider the costs.
Creating a fragrance formula starts at £3000 + VAT for three variations based on what you tell us you would like. This does not include the fragrance itself. We've worked from a list of notes, a description or a story, and a classical music playlist. We do not copy other people's work.
We retain the rights to the formula, but you can buy that if you need to. We never use a formula for two different perfumes, and yours would be secret.
To supply fragrances, the perfume compound (at 100% strength) starts at £400 + VAT per kilo. We work in mixed media - naturals + synthetics to help them work better, and made the scents safer - and handmake everything. We know that some companies make fragrances in large quantities for much less, so if you're hoping for more of a bargain, you would need to speak to someone different. This comes with an IFRA certificate.
Finished fragrance, diluted in perfumers alcohol (Parfum, Eau de Parfum or Eau de Toilette) starts at £150 + VAT per litre. This depends on the materials we use and is in addition to the fragrance creation cost.
We also run courses for people planning to set up their own brands, and will give private consultancy by scheduled phone or Zoom call.
It's a lot easier to make a fragrance than it is to sell it, and this is a very competitive market. Be absolutely certain that you want to do this.
To make a fragrance legal to sell, you need to test its stability, to comply with the new UK regulations (which are the same as EU regulations), pay for a Cosmetics Product Safety Report, upload the data on to the cosmetics portal, comply with labelling regulations and keep accurate records.
We can also advise on the correct details for your labels to comply with cosmetics regulations.
We always use bottles from Pochpac ourselves, and recommend them. We suggest that you buy your own.
We can fill your bottles for you as we have a business premises classed as light industrial. Your own offices may not allow filing to take place as you are dealing with flammable materials.
If this is something you'd like to know more about, please get in touch.