13 Greek Gods & Monsters
Posted on
What do monsters smell like?
Last Monday we were at the beautiful church turned concert hall St John's Smith Square in Westminster, making the space smell of monsters - one monster in particular, Polyphemus from Handel's opera Acis and Galatea.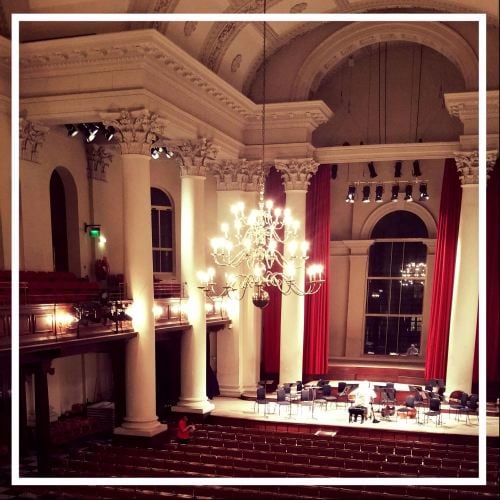 As usual, it's a long story. Essentially, our lute playing nephew, Alex McCartney, got into a conversation with David Bates, director of La Nuova Musica about how great a Couperin piece would sound if it were scented. Alex said, "funny you should mention that," and introduced us.
For the first act, before the audience came in, we wandered around the seating, wafting a pastoral idyll into the air.
The orchestra and singers could tell that we'd make the place smell like a walk in the park. When they were rehearsing that afternoon it still smelled like the slightly damp, cold, stone, three hundred year old building that it is. The audience didn't seem to notice the difference, although they might have got a clue from the programme or St John's Smith Square Website.ame in, we scented the hall with our Pastorale perfume, the scent of Galatea, a lovely water nymph who visits earth dressed as a shepherdess and falls in love with the equally gorgeous Acis. We set a country scene in perfume. It was low tech; Brooke and I used the traditional atomiser and thumb method and just wandered about a bit. A lot. It only took about 80ml of perfume at 10% strength to change the whole place.
During the interval we crept around the balcony trying to avoid being seen by the audience members who refused to leave their seats. This was when we really made a difference. Polyphemus was about to enter the action; this is a character which doesn't score highly on the emotional intelligence scale, but spots Galatea, falls in love and is driven to mad rage by his rival Acis. He tries to rape her, and kills him with a rock.
Our task – set by David Bates - was to create a sense that it was all about to turn nasty. It was working.
One of the audience had despatched an usher upstairs to ask what we were spraying the hall with. Brooke answered simply, "Foreboding."
As the audience and orchestra returned to their seats there was a definitely a change in the atmosphere. From our perch upstairs all I could focus on was a Japanese woman who covered her face with her sleeve for most of the second act, apparently horrified, and not realising that if she just allowed her brain to get used to it, the smell would have worn off. The point wasn't to smell lovely though. It was to smell of monsters.
David was so excited at the end he forgot to tell the audience to look out for scent number three, Acis, the river. Galatea turns him into a stream so she can still be with him after the unfortunate fatal stone incident. It's Greek mythology; it's like that. While I was shuffled on stage to take a bow, Nick dashed out and scented the café, covered up the lingering broccoli and cheese bake nicely with fresh water.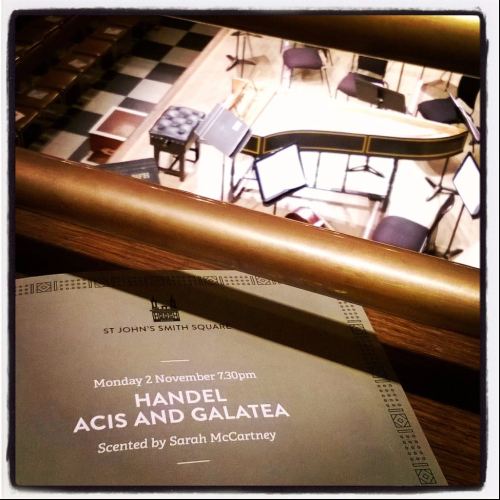 Handel was writing operas at a time when all perfume was natural. Churches would be a mass of well perfumed rich people, poor people smelling less lovely, bouquets of flowers and scented handkerchiefs to disguise their smell, plus lavender and rosemary on the church floor to release fragrant (and antiseptic) wafts as they were trodden underfoot.
We weren't attempting anything of the like.
Someone along the way had asked if there was a danger of allergic reactions, so to avoid any possible objections, I told them I would make fragrances avoiding all of the EU stated allergens, and IFRA'd up to their eyeballs. You could swim in the stuff at 100% strength and it would be safer than water – just a lot stinkier.
I reported that this meant severely restricting natural materials and that the fragrance would be totally synthetic. That surprised them, but I like surprises.
To the monster then. What did he smell of?
Veramoss – a synthetic replacement for oakmoss.
Iso Butyl Quinoline – a sharp leathery smell that all the early leather smells were based on, from Knize 10 onwards.
Floralozone – a weird, chilly, threateningly bright scent of iced flowers.
I did add some natural patchouli as I wanted an earthy, muddy, sodden feeling for this lumbering creature.
We think we'll do more, after the reviews…
Here's the first, from Classical Iconoclast.