All perfumes are created equal
Posted on
In Berlin last year at the 2017 Art & Olfaction Awards - for perfumes released in 2016 - I somehow volunteered to be one of the judges in the Independent catergory for 2018. I hadn't entered the awards that year, but I went over to meet all the perfume people magnetically drawn towards the event, the first in Europe.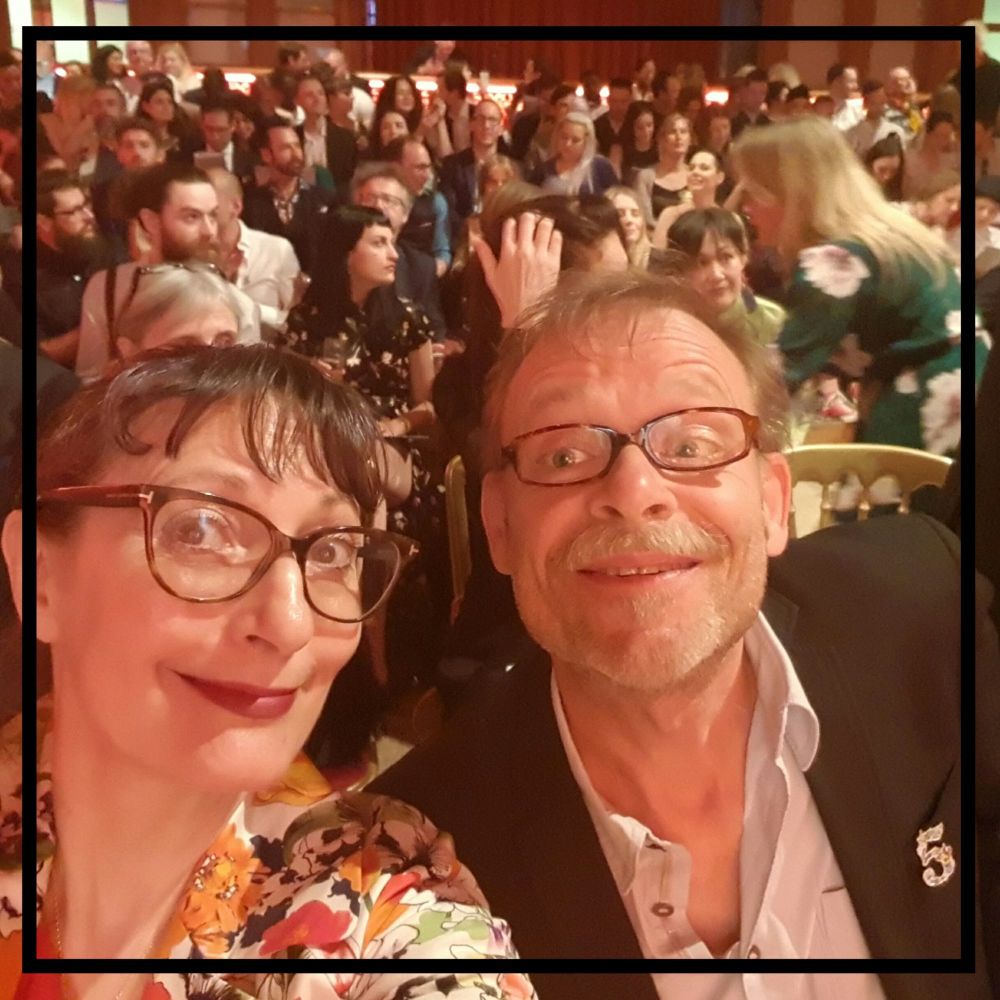 A selfie from the 2018 Awards. Andy Tauer and I got to sit in the front row because we were getting up and talking a bit. It's a really friendly event, full of lovely people.
Andy Tauer was one of the judges that year, and gave a gently rousing speech about how everyone who'd got as far as entering should consider themselves a success, even if they didn't get shortlisted. I always do what Andy says, so I started to wonder which ones to enter. I'd met the organiser, Saskia Wilson-Brown, at Pitti Fragranze the previous September. Pitti is the Florence niche perfume trade show; we've been twice, and it's getting a bit too bling for the likes of us. Niche was the term for small batch, limited distribution perfumes, but it's turned into the French for really extravagantly expensive.
The A&Os still support the indie brands, independently owned companies that employ a perfumer they're prepared to name, and artisan fragrances, those released by perfumers who create their own formulas. In the EU to release a fragrance, we need a safety certificate from a qualified cosmetic chemist, so we can't do everything ourselves (unless we happen to be that PhD chemist specialising in cosmetics regulations.
To get that we either need an IFRA certificate, or a GCMS analysis to identify the allergens we need to declare. With indie perfumes, these are often from the naturals we use, and the calculations are complex; we use a customised multi-level database software that calculates them, and we do this for other indies who want to get their formulas compliant, ready to apply for a safety certificate.
At Pitti Fragranze in 2017, I assured Saskia that I'd not changed my mind, although it was pretty clear that there was a lot of work, and responsibility. A golden pear is precious.
I entered three of my own fragrances at the end of 2017, and I shipped some of my fellow UK perfumers' entries to LA too. Perfumes are classed as dangerous goods, so you have to have the right qualification to ship them, and it costs a bucket load. I sent Damn Rebel Witches, the fragrance I created for Reek Perfume, Marina Barcenilla's Aromatom project and Ruth Mastenbroek's Firedance. Indies have got to stick together or we'll be subsumed by the big guys. (Let's face it, we're already seriously outgunned, but there's no point competing when we could be collaborating.)
It costs $65 to enter each fragrance, but I honestly have no clue how Saskia manages to run the whole thing for the budget. It's a not for profit organisation. You can read about it here.
It was a total joy to get my packet of perfumes. Packets of little identical, numbered bottles with a book of accompanying anonymous explanations, carefully edited to take out any giveaways that people might have included. I divided out the number of perfumes I had to try by the number of days to the deadline, so I could sniff the minimum per day and give each one a fair try. I wasn't sent Damn Rebel Witches, because I'd made it, and there was only one I recognised from smelling it earlier in the year.
My method was to smell each one on paper, then on my skin to see how they held up, then paper and skin again after a while, the to read their stories to see if they matched, then paper and skin again - and again until I went to bed that night. I'd write my opinions, and my marks in the book Saskia sent over. To this day, I still don't know which is which, except for the one I recognised.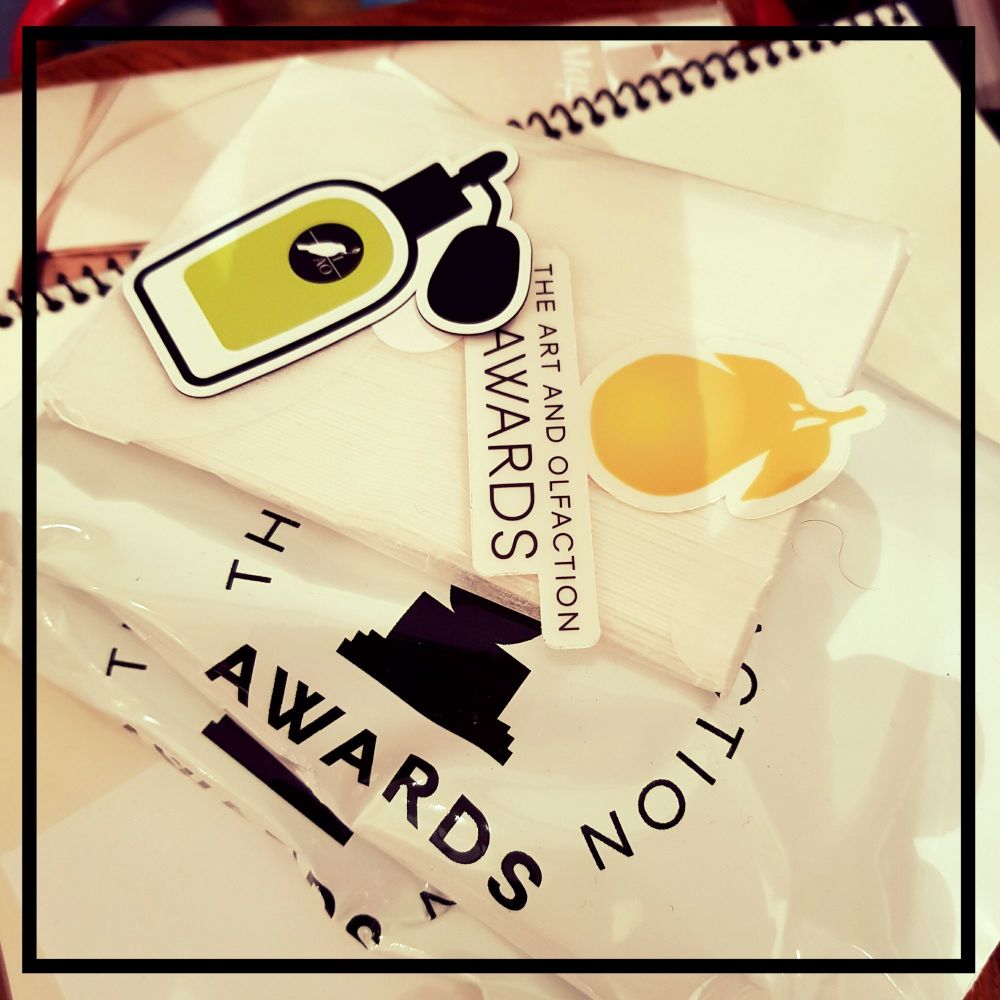 I walked into this with my nose wide open, but as usual I had my guard down. As a compulsive teller of the truth, I'm always surprised when people don't believe me, or my mates. Mind you, the perfume industry is full of noses as long as Pinochio's, so I am beginning to understand the cynicism. There are "perfumers" who don't enter the A&Os because they'd have to name the real actual perfumer behind their fragrances. The industry knows but their customers don't.
The A&Os are totally utterly transparently squeaky clean. The only way that cynics can be certain of this is 1) to enter and 2) to volunteer to be a judge. I've done both and that's the way it is. I still don't know which fragrance I smelled was which.
Anyway, I rather enjoyed it. I was surprised and delighted by many, stunned by some and only disappointed by a few. Five smelled like almond cake to me, so there's a trend for you.
Then I waited, because I'd entered three in the Artisans. I'd no idea what would appeal to the judges smelling the other category. I put in Eau My Soul, which had already won one award, Rhubarb & Custard and I forget which the other one was. I got nowhere.
The ten finalists were announced but before I read them I got a phone call from Amanda Beadle. She was in a right tizz, and told me that she'd been shortlisted. To call her shocked wouldn't begin to cover it.
I then had to explain that the reason I was laughing wasn't because I thought this was funny that she'd got into the top 10, but that after learning how to make perfume on my "make your own fragrance" days, she'd totally stuffed me at perfume!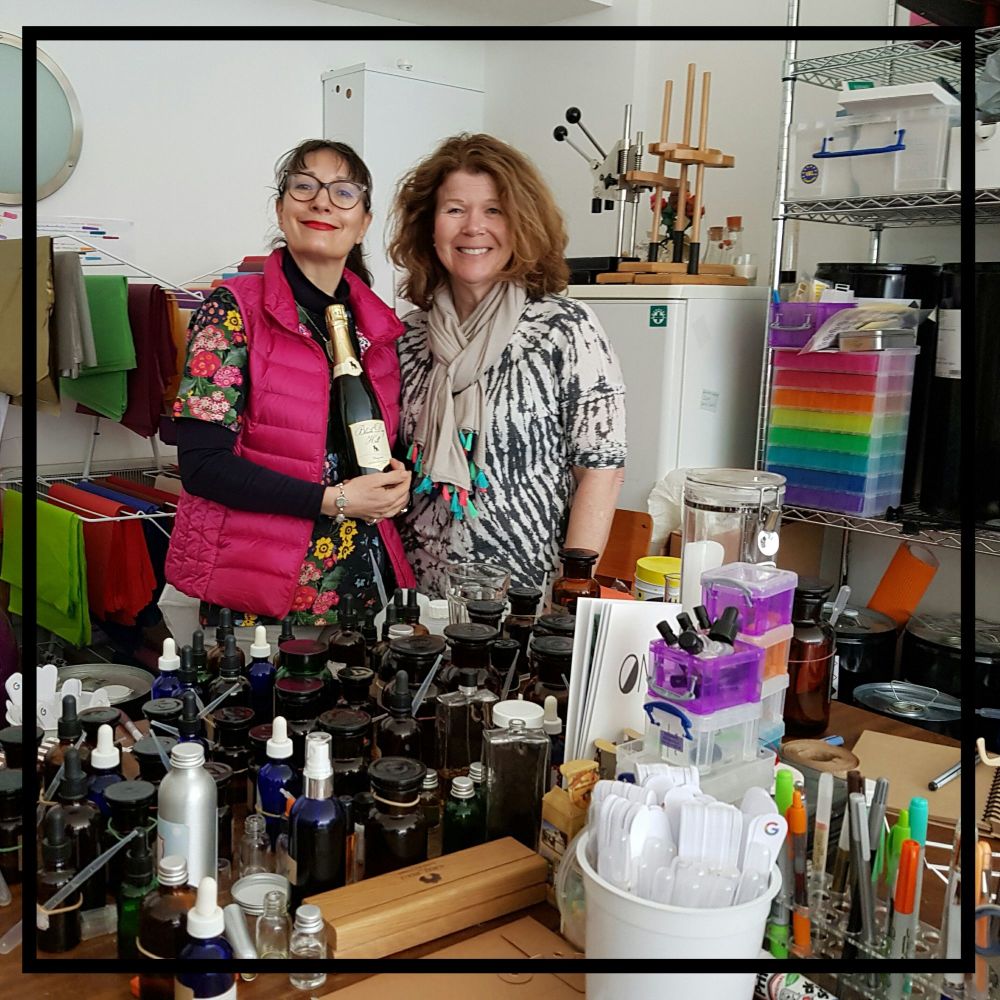 Here we are, celebrating the shortlist with a bottle of Black Dog Hill sparkling wine.
Amanda Beadle is one of the nicest people we know. She first turned up at one of our Saturday workshops, then came back, then came to our two day rules and regulations course, "Brick Walls and Flaming Hoops", then to a two day "use all our kit and blend your own formulas" workshop. As a former accountant, she can do all the maths, which helps a lot in perfumery. She quietly got on with things, and created a fragrance her friend had asked for, the smell of a British vineyard, Black Dog iIll. We reccomended our cosmetic chemists, Oxford Biosciences, for her EU regulatory work, and used our software for her IFRA compliance.
Amanda hadn't told me that she was entering, and it never crossed her mind that I would be doing the same thing. (I'd have included her perfume in my parcel if she'd said so.) As usual she just got on with it quietly. She had to come back to the lab to make another batch, when the vineyard sold out, but she'd only made a litre. She was round yesterday to make another 100g of concentrate, and bought us all a thankyou lunch at Paolo's cafe.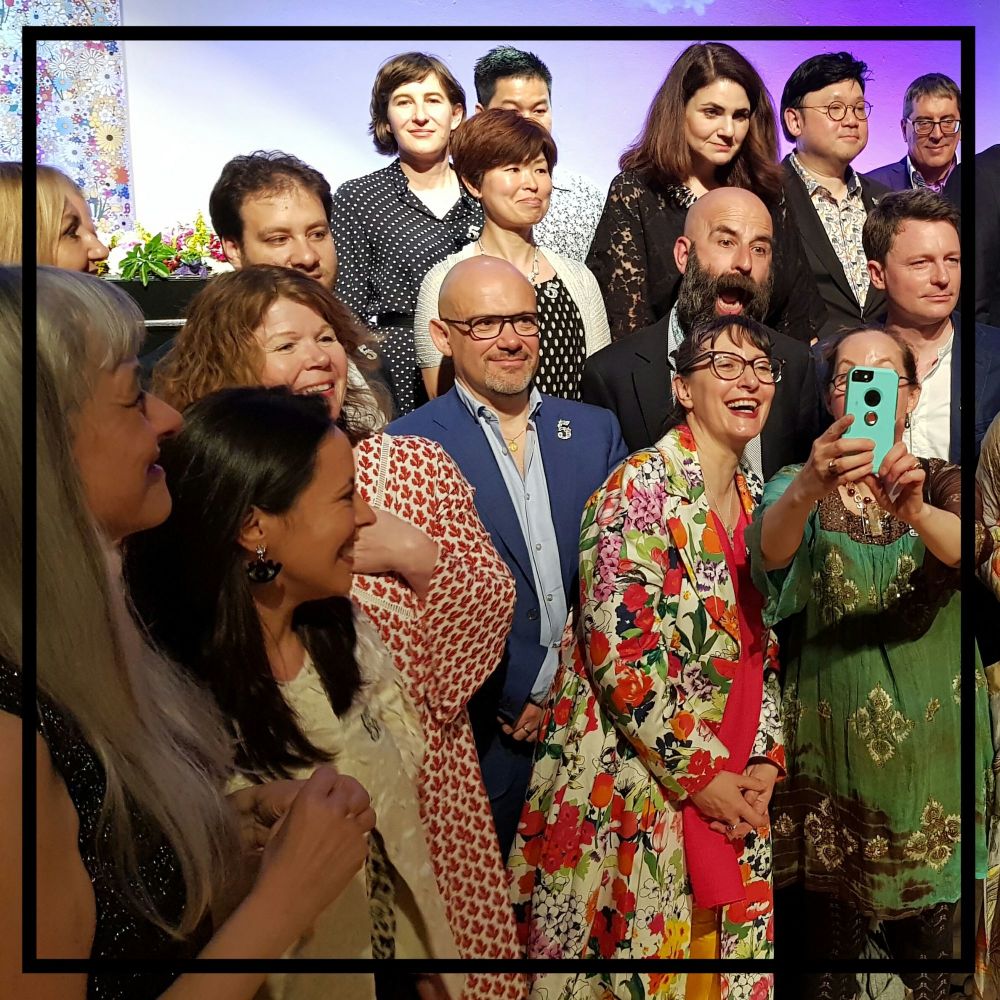 That's Amanda front left in the red print dress and wavy auburn hair. (Me in the flowers doing a selfie with Dawn Spencer Hurwitz and Antonio Gardoni with our great supporter, Bibi from Mane, in the back row.)
At the awards, held in the Notting Hill Tabernacle London this year, fate put me on stage announcing the 10 people who beat me, and in my heart of hearts, I rather hoped that I'd only be beaten by Amanda or Christophe Laudamiel: my hero or my student. There were two awards, and to my total delight they went to Amanda and Christophe. I was sitting next to Denise Beaulieu, one of the finalist judges. She said that both of those had been her choices, so I thank the universe and the judges for showing such great taste.
What's great about the A&Os is that Master Perfumer, child chemistry prodigy and all round wonderperson Christophe Laudamiel, and former accountant, artist and fragrance lover Amanda Beadle can both win a pear in the same category.
What's even better is that I might get a few new students wanting to learn everything I know so they might be able to win one too. That, of course, is my British humour - which I'm learning is not always understood, even by the British. I don't even know how to win one myself, so I'm not at all certain that I could teach someone else.
What we can do is help people who have the creative approach, the methodological rigour, the inspiration, the independence to get on with it, and the fascination in artisan perfumery that Amanda has, to give it a go.
Three cheers for Amanda. Three cheers for Christophe. Fingers crossed for next year, when I'm sure it'll be even harder because Amanda's achievement might inspire hundreds more indie hopefuls to put on their lab coats and reach for their pipettes.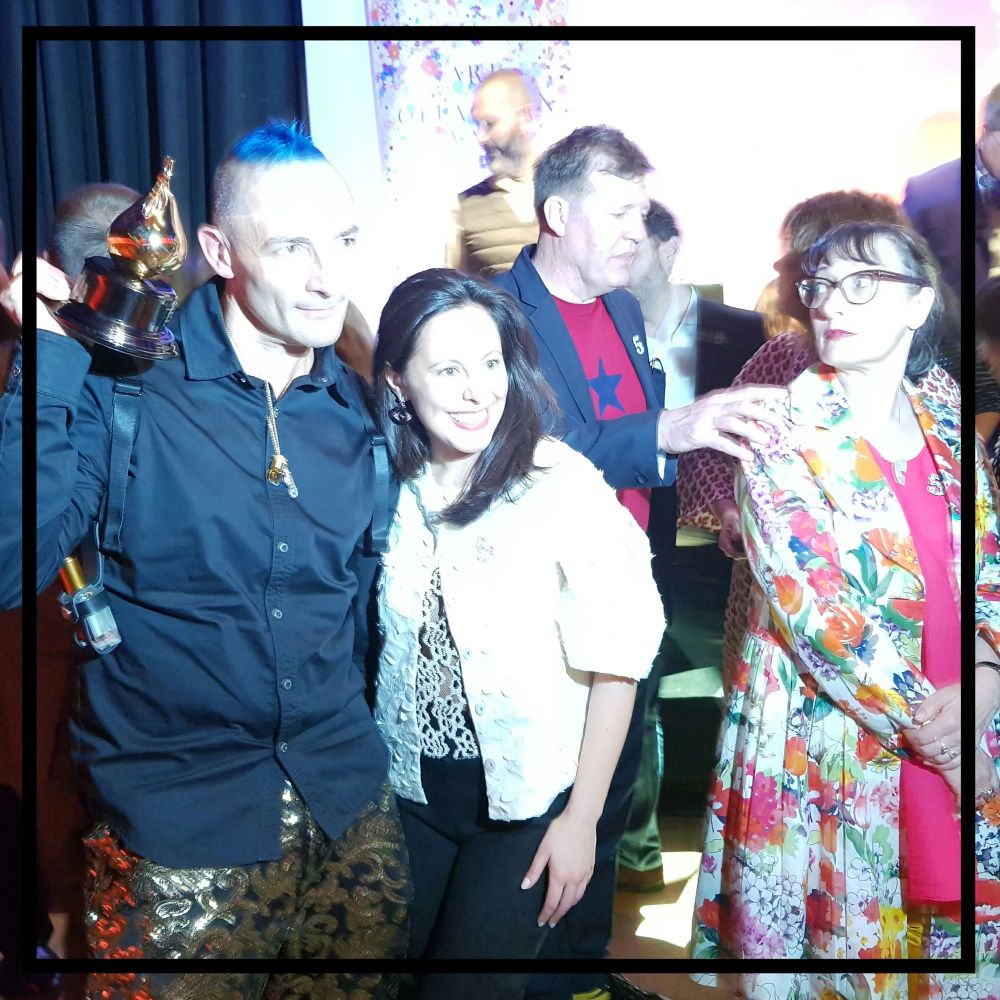 And here I am being arrested by the perfume police.
Kidding.