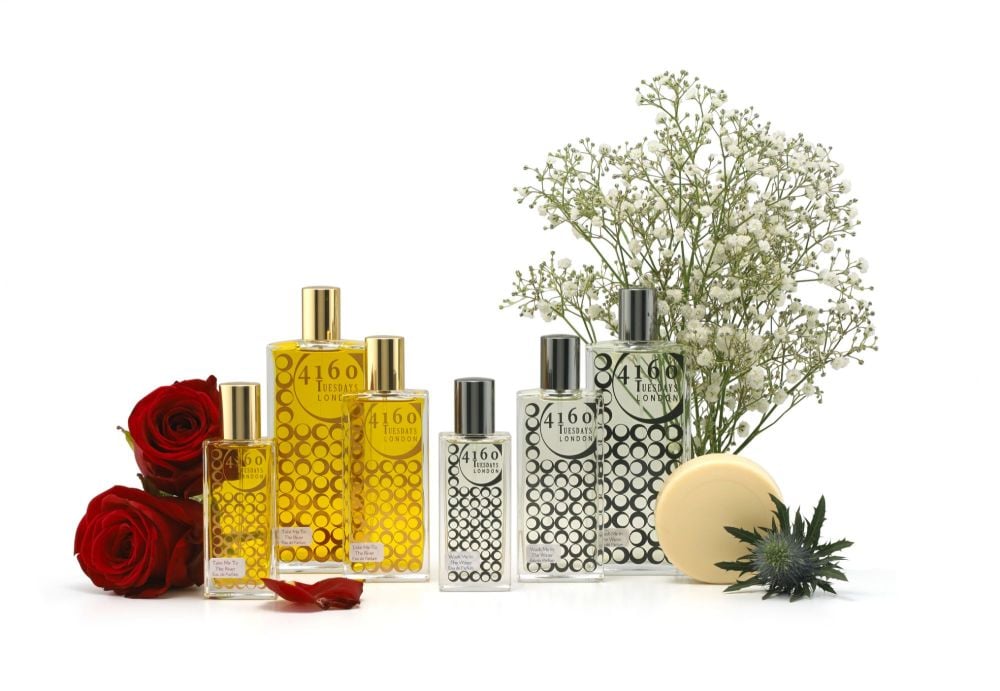 A couple of weeks ago at we spent a day shooting our newest fragrances, and me.
Sam was styling, Jessie was editing the feed, and @billmurraythedachshund was helping. Here's Take Me To The River with Wash Me In The Water.
Unlike big brands, we launch backwards. These two came out last year as a crowdfunding project and they sold out, so now we can afford to have their pictures taken and make another batch. It's daft for a small company like ours to launch a fragrance spending shedloads of money on the marketing, then to find it's not popular. None of ours ends up in landfill or a big bonfire, or shipped off to India for a few pence a bottle because they didn't sell enough to stay on the shelves. (Yes those things all happen.)
I used to teach management information systems for marketing decisions at London Metropolitan University, and I know that you've got to work to your budgets. Despite perfume industry norms and beliefs, I know that it's a mortal sin to spend more on evaluation (which is what our industry marketing calls research) than it actually costs you to launch a fragrance. So I have developed my own test methods. Go small, and if it sells out, go slightly less small next time.
Which brings me on to a shiny British brand which has recently been sold. If you have read the story in The Times, you'll have seen that this company was sold four years ago to investors who weren't involved in the perfume industry, lost £9 million ($13 million-ish) in those four years, then the investors decided that they couldn't take the losses any longer and got out. A press release spun this as a major success for the shiny British brand by missing out the part about the -£9 million.
This is not a wonderful new time to launch a niche brand, but it can appear that way. I already had hopeful dreamers message me the day the PR piece came out, asking about making perfume for them. I try to wake them up gently.
The huge cosmetics companies have already done their shopping for medium sized niche brands, and are beginning to sell them on. Be realistic, aspiring brand owners. Backers are pulling out, especially from British brands while the UK appears determined to make overseas trade a whole lot more difficult for companies here.
If you're in it for money not love, and that money is someone else's, it's best to have a plan B.

Fortunately we're in it for love, and we don't have backers. Maybe we don't come over as sleek and smooth as niche brands. We're not, we're true indie. We have no safety net, but at least we own our trapezes and tightropes. Backers would want us to triple our prices so they'd post more profitable annual accounts.
We're asked quite often why our fragrances don't cost more; is it because the materials we use aren't as expensive as posher brands? That's not it; it's because we stay small, and sell directly to our customers or to the small number of specialist shops which sell our scents. We trampoline over the importers, wholesalers and distributors. Plus we're not that interested in having crystal bottles and ebony boxes. Sometimes it's not easy being small, but we're more flexible and we can be more adventurous. We love working with big companies (we've worked with Hyundai, Tinder, Google and Waitrose) but we're not planning to become one, or to get bought by one. Just so you know.
We'll stay tiny, not shiny.

#keepitreal #wemakeperfume