Click below to buy your bottle: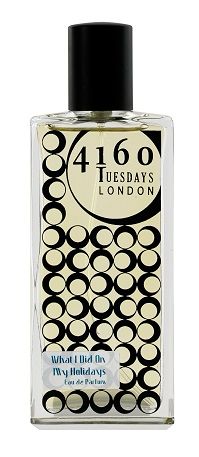 What I Did On My Holidays is the story of a day at the seaside, but this time it's summer holidays in Scarborough or Brighton or St Anne's, somewhere with an amusement arcade, mint rock shop and a candy floss stand. Suntan lotion and rock pools, in and out of the sea all day until the wind gets too strong, the waves are too high and you put your shorts and T-shirt back on, over your slightly damp cooling skin, and head for the café.
Lavender, melon and coconut lotion, seaweed and fresh sea air, a waft of peppermint as you pass the rock shop. There's candy floss - as you walk through the funfair - and it all settles down to nice vanilla ice cream.