Perfume making workshops
When we can fit them into the schedule, we run perfume making workshops in our dedicated room at our small studio in West London, we sometimes are able to go on tour to UK cities and occasionally overseas. We have introductory afternoons, and full days, then our five day schools in March/April and August.
You'll find all the information and the afternoon workshop dates here.
For our full day workshops dates and more about what you'll do on the day, go here.
If you know a perfume lover who'd like to make a scent, you can also buy vouchers for our afternoon or full day workshop.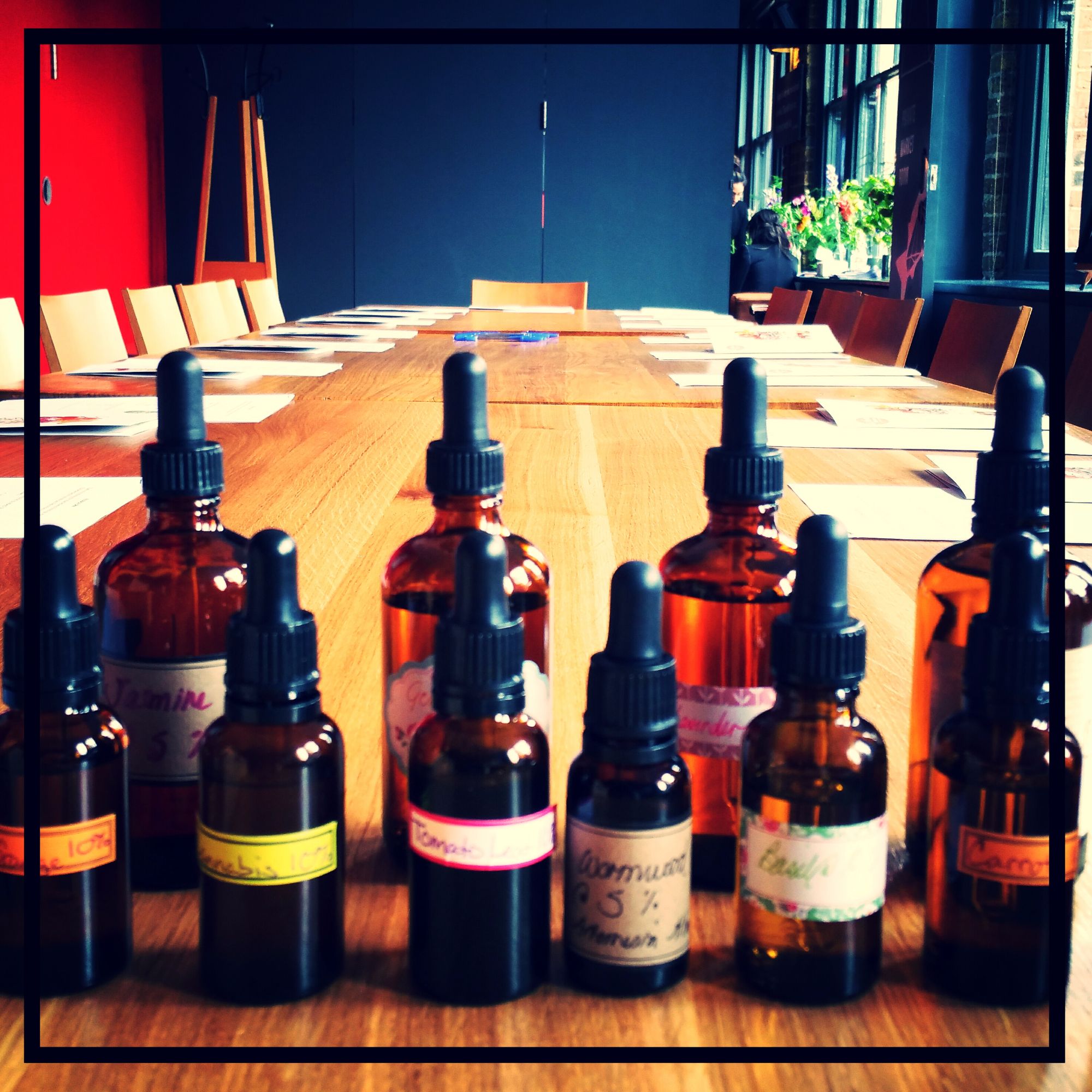 This is our introductory session to perfume making.
At every event you'll be able to use our own collection of professional materials, both natural and synthetic, and to take away a 15ml bottle of your own perfume. You'll have guidance and hands-on help from Sarah and an assistant; your afternoon includes drinks and samples of 4160 Tuesdays fragrances.
Just had the most delicious afternoon creating a perfume under Sarah's care. The perfect way to finish all of my different Birthday celebrations x thank you I really enjoyed the smells, the chatting and the perfume at the end of it.

Pip Thomas
Attended yesterday's introductory course. I learned loads and made a very wearable perfume to my astonishment! Thank you Sarah for answering my endless questions. Drinks from the bar were included and Nick even went across the road to buy me a coffee. Plus very generous 4160 Tuesdays samples included in the course. Amazing value for money and a really enjoyable afternoon. Thank you

Jackie Cairns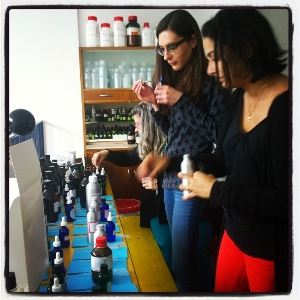 These are our slightly more advanced days, based at our studio with a maxiumum of twelve people. You have morning and afternoon sessions with access to our own materials, both natural and synthetic. You'll take away a 30ml bottle of finished fragrance, and all your experimental blends too.You'll smell a range of materials and learn how to blend them. It can be quite hard work - lots to learn - but you get as much help and guidance as you need from 4160Tuesdays' own indie perfumer, Sarah McCartney.
I can't recommend these perfume workshops enough - it really was the perfect experience for me, meeting other fragrance enthusiasts and spending hours talking about our favourite subject. We learned so much about why we like certain smells, what they do to us, how they make us feel, the history behind both the natural and synthetic materials, how to balance and blend, and all in all a totally relaxed atmosphere of sharing the joy of perfume.

Suzy Nightingale - Fragrantica
It's been a splendid day: a melding of art, science and fun with something concrete to show for it at the end

David Shariatmadari - The Guardian
This is the workshop any fragrance lover should take once in life. I had a great time making my own perfume guided by Sarah, who is just wonderful, fun and a great perfumer. This will be the way forward. Everyone has their own taste so it makes sense to make one for yourself! How inspiring and encouraging! The perfume I made is so uplifting - it works for me. Thank you so much.

Sachiko Siljamaki
I'd ummed and ahhed about doing a perfume workshop for ages. Sarah's are the real deal, not an 'experience day'. I left with a bottle of unique fragrance I adore and a new and potentially expensive passion for all things olfactory. The best day.

Elinor Vasiliou