Vintage Tuesdays
Vintage Tuesdays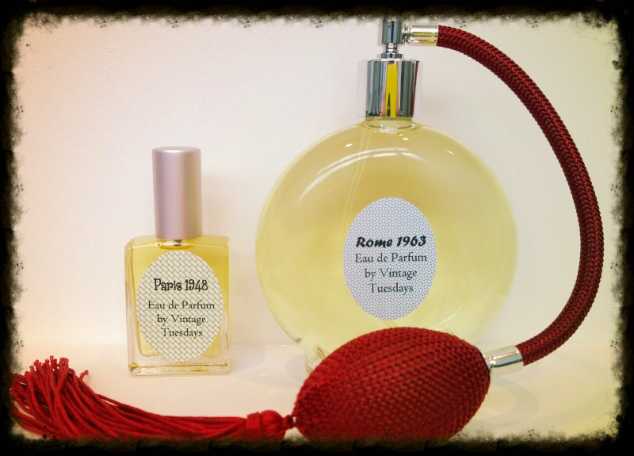 New scents, made the traditional way with authentic materials.
See us at:

Vintage by the Sea - Morecambe - 6-7 September 2014
Four eaux de parfums, handmade in London using natural and synthetic materials* in use at the time.
Paris 1948 -

a classic chypre: oakmoss-peach-floral combination

New York 1955

-

vanilla, rose, musk and violets

Rome 1963

- white flowers - tuberose and ylang ylang - with dry woods

London 1969

- fresh floaty citrus fruit with hippie influences
*Cruelty free with no endangered materials; EU legal and very wearable. We've replaced animal ingedients and engangered plants with non-animal, safe synthetic copies.

We first tried them at vintage fairs, and they went down so well, we have them here too.
You can also get handbag sizes and 30ml perfumes in our groovy new packaging.

Vintage shop owners - get in touch.
We also sell genuine old vintage perfumes by the ml, just so you know what they really smell like. These are not for wearing, although they're safe to dab on a hanky and sniff.
Old perfumes can still smell wonderful if they've been kept in the dark, out of heat and decanted into smaller bottles to reduce the air space at the top. But they were made at a time when no one really know the effects of the natural and synthetic materials on the skin.
Some of these materials are now banned, so you really mustn't wear them. You wouldn't put on a 20 year old lipstick. It's the same with scent. Have a look at the current range here, and bear in mind that you don't get the whole bottle, the price is for a millilitre - for serious scent hounds only.
We also sell organic cotton Scenterchiefs - scent hankies.
Every month we run a scent making workshop, each with a different theme. You can make your own perfume, vintage style or totally modern, guided by Sarah.

We also run sniffing sessions - The Wall of Scent - where you can smell both modern and classic fragrances, and the materials that define them.
Sit down before you click on this one. But bear in mind that our bespoke perfumes are very competitively priced.
Synthetic and natural materials - just so you know
The history of perfume has been defined by the materials available to make it. Since the 1860s those influential materials have been synthetic. It's only in the 2010s that new naturals are being introduced for the first time in 150 years.
When William Perkin synthesised Coumarin, the almond/freshly mown hay scent naturally produced by tonka beans, the world of perfume changed. Coumarin was in Fougere Royal, and defines the whole category of fougere scents. Then came vanillin - synthetic vanilla - at the end of the Victorian era, which allowed Oriental scents to be created; there would be no Jicky or Shalimar without it. The ionones, alpha and beta, kicked off the Victorian violet perfume craze. Gamma undecalactone - the scent of creamy ripe peaches - gave 1930s and 40s chypre scents a light new feel.

Chemistry has made perfumery what it is for the last 150 years.
That said, our view is that it's the combination of natural and synthetic odorants that makes a really beautiful fragrance.
All our scents are made this way, which is why the press describes them as vintage.
Like we always say, making a perfume without synthetics is like baking cakes without baking powder - they'd end up flat and dense.
(And nobody wants that.)
You can read about some of the materials we use on our blog.