About our perfumer
About Sarah McCartney: creator of 4160Tuesdays' secret formulas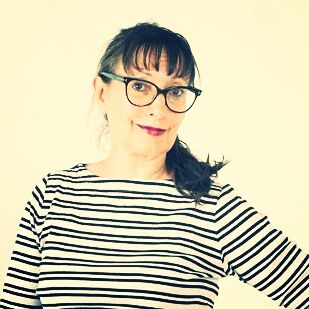 Sarah McCartney.
Born within the sound of the North Sea crashing on Saltburn beach. 75% Teesside, 25% Cockney. Boro supporter, Yoga teacher, clarinetist, knitter of socks and writer of books. Guilty pleasures: playing on the swings at the park, red lipstick, watching Nashville, drinking champagne, Eurostar, Trippen shoes.
As a little girl, I did not make perfumes from rose petals. That was for softies. I made magic spells and wanted to be a witch when I grew up. When I was 16 I bought a bottle of Diorella.I studied maths and sciences, practised music and French, wrote books on brands and their evil twin - counterfeiting - and online marketing, and learned to dance Argentinean tango.
For 14 years I was the head writer for Lush while the company grew from four shops - one in Poole and three in London - to 700 worldwide. I was writing 50,000 words every three months for the Lush Times, aiming to encapsulate the products' scents in their descriptions. During that time, I bought and read 200 books on essential oils and herbalism and learned the essential oils the founders gave me to educate myself.
At the end of the 14 years, I took some time off to write a novel featuring a problem-solving perfumer. In it, I described the scents that she made and I wanted to have them available for people to smell. So I set off on a quest to see if I could buy them. This turned out to be impossible - and pretty expensive - because no one was making exactly what I wanted, so I started another quest to see of I could make them instead. Of course that turned out to be even more difficult, but once I'd started, I just kept going. 4160Tuesdays perfumes is the result.
Lemon Wedge Blog:
"I am fathoms deep in love. Sarah McCartney has not only brilliant eccentric talent, but you sense that she has the most enormous fun in creating her perfumes: she appears to get a hell of a kick out of her own products and this I find quite irresistible in an over-serious world. Sarah's scents are full of joy and wit; laughter, memory, imagination and fantasy – all those things that we perfume-pickers constantly reference as fundamental foundations of a great fragrance. She composes like a bold Fauvist painter – using brilliant gemmy colours; great bold strokes camouflaging insightful subtlety. Sarah is eclectic, weaving all kinds of symbols, totems, allusions and glittering ephemera into a magical web: she is the Shena Mackay of fragrance, a mordant mistress of illusion. 4160 is a wardrobe of highly sophisticated scents which one can also play with – in the same way that Carl Faberge's jewels are also the most fantastic toys ever made."
Candy Perfume Boy Blog:
"I continue to be incredibly impressed by the output from London-based indie brand, 4160 Tuesdays. Perfumer Sarah McCartney has a natural knack for perfumery, but also the subversive talent of injecting humour and eccentricity into her compositions. The result is exceptionally well-crafted fragrances that have bold and bright characters, that one would really have to be a miserable git not to enjoy."
Josephine Fairley, The Perfume Society:
"...an incredibly gifted and entirely off-the-wall self-taught perfumer, Sarah McCartney (more of her anon), who single-handedly gives the finger to those who sniffily say you need a chemistry degree and several years hanging around the great and the fragrant good in Grasse, to become a 'nose.' "