About us
Our perfumes are inspired by a place or a person at a certain moment, and created by our perfumer, Sarah McCartney (who isn't related to any of the other more famous McCartneys but she does get asked quite often). We handmade our scents in West London in batches of 50-200 bottles.
Awards:
2015 Best indie house in the EauMG awards.

2016 Best indie fragrance in the EauMG awards for Dirty Honey.
2016 Stylist Best Beauty Awards. Five stars, and runner up in the indie category

with New York '55.

2016 two finalist places in the Fragrance Foundation's best independent fragrance with Maxed Out and Midnight in the Palace Garden.

2017 Finalist: Fragrance Foundation's best independent fragrance with Mother Nature's Naughty Daughters.

2017 Finalist: Fragrantica most innovative fragrance, and the only indie house in the top 10, with Eau My Soul.

2017 Best Indie House - CaFleurBon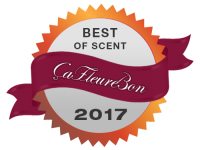 Read more about: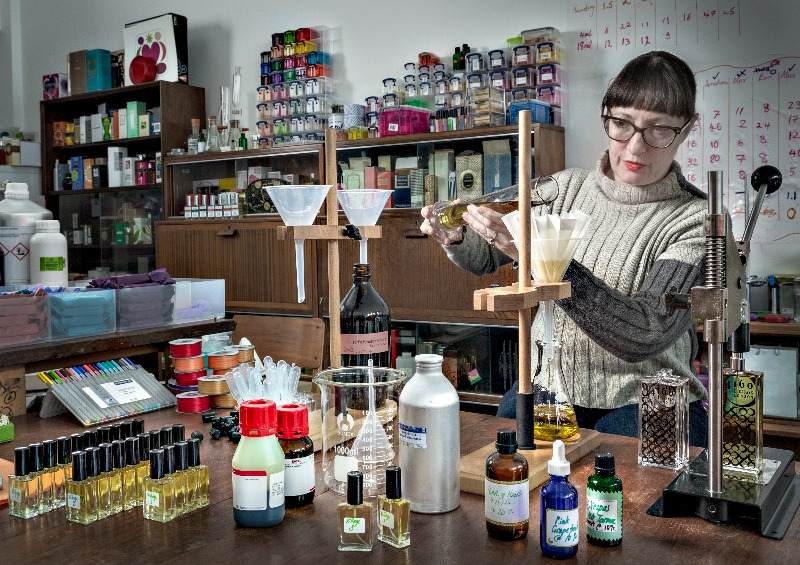 Sarah McCartney:
"I was born within the sound of the North Sea crashing on Saltburn beach. 75% Teesside, 25% Cockney. Boro supporter, yoga teacher, clarinetist, knitter of socks and writer of books. Guilty pleasures: playing on the swings at the park, red lipstick, cosy crime novels, Thornbridge beers, Eurostar, Trippen shoes.
As a little girl, I did not make perfumes from rose petals. That was for softies. I made magic spells and wanted to be a witch when I grew up. When I was 16 I bought a bottle of Diorella.I studied maths and sciences, practised music and French, wrote books on brands and their evil twin - counterfeiting - and online marketing, and learned to dance Argentinean tango.
For 14 years I was the head writer for Lush while the company grew from four shops - one in Poole and three in London - to 700 worldwide. I was writing 50,000 words every three months for the Lush Times, aiming to encapsulate the products' scents in their descriptions. During that time, I bought and read 200 books on essential oils and herbalism and learned their aromas.
At the end of the 14 years, I took some time off to write a novel featuring a problem-solving perfumer. In it, I described the scents that she made and I wanted to have them available for people to smell. So I set off on a quest to see if I could buy them. This turned out to be impossible - and pretty expensive - because no one was making exactly what I wanted, so I started another quest to see of I could make them instead. Of course that turned out to be even more difficult, but once I'd started, I just kept going. 4160Tuesdays is the result."
Christopher Stocks, Wallpaper:
"British perfumer Sarah McCartney makes scents that are thoughtful without being in the slightest bit pretentious (a rare thing in the perfume world) and sometimes even funny (even rarer)."
Lemon Wedge:
"I am fathoms deep in love. Sarah McCartney has not only brilliant eccentric talent, but you sense that she has the most enormous fun in creating her perfumes: she appears to get a hell of a kick out of her own products and this I find quite irresistible in an over-serious world. Sarah's scents are full of joy and wit; laughter, memory, imagination and fantasy – all those things that we perfume-pickers constantly reference as fundamental foundations of a great fragrance. She composes like a bold Fauvist painter – using brilliant gemmy colours; great bold strokes camouflaging insightful subtlety. Sarah is eclectic, weaving all kinds of symbols, totems, allusions and glittering ephemera into a magical web: she is the Shena Mackay of fragrance, a mordant mistress of illusion. 4160 is a wardrobe of highly sophisticated scents which one can also play with – in the same way that Carl Faberge's jewels are also the most fantastic toys ever made."
Candy Perfume Boy:
"I continue to be incredibly impressed by the output from London-based indie brand, 4160 Tuesdays. Perfumer Sarah McCartney has a natural knack for perfumery, but also the subversive talent of injecting humour and eccentricity into her compositions. The result is exceptionally well-crafted fragrances that have bold and bright characters, that one would really have to be a miserable git not to enjoy."
Josephine Fairley:
"...an incredibly gifted and entirely off-the-wall self-taught perfumer, Sarah McCartney (more of her anon), who single-handedly gives the finger to those who sniffily say you need a chemistry degree and several years hanging around the great and the fragrant good in Grasse, to become a 'nose.' "